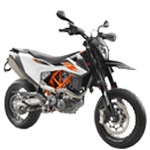 La Super Moto KTM: la reine de la rue
Optez pour un 690 SMC R disponible chez vos concessionnaires Contant Mirabel et Vaudreuil dès aujourd'hui.
Surnommé le « Street Slayer », ce modèle est spécialement conçu pour ceux qui veulent vivre leur passion sur la route et hors route à 100%.
Son châssis et design qui sortent de l'ordinaire donnent un large sourire à tous les pilotes qui l'essaient pour la première fois.
En résumé, la KTM 690 SMC R est dotée d'une puissance impressionnante. Son moteur LC4 4 temps qui a du torque a été testé dans plusieurs conditions. Résultat : la KTM 690 SMC R est aussi polyvalente sur la route que hors route. Elle est le mix parfait entre moto et motocross. Sa suspension WP Apex et ses freins Brembo font de lui le Supermotard double usage le plus plaisant à conduire sur le marché.
Venez bénéficier des conseils et des services offerts par un de nos conseillers aux ventes à nos succursales de Mirabel et Vaudreuil. Achetez un véhicule neuf ou usagé ou bien échangez votre véhicule actuel.
Concessionnaire de KTM canada depuis plusieurs années, nous sommes des experts dans le domaine. Nous avons maintenant six succursales pour mieux vous servir : Laval, Mirabel, Ste-Agathe, Vaudreuil, Beloeil et Montréal. Venez nous rendre visite pour obtenir de l'information sur tous nos véhicules récréatifs.
Afficher plus
Afficher moins

Compare Products
You have no items to compare.