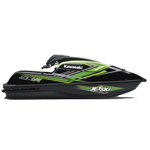 En 1992, arriva sur le marché le Jet Ski de Kawasaki
La clientèle de ce segment de motomarines est axée sur la performance et le désir de toujours aller plus vite. Aussi appelé le Jet à bras, elle est plus facile à manier et plus rapide que la majorité des motomarines standards. Ces véhicules récréatifs se caractérisent par un guidon placé au bout d'un bras articulé nécessitant une position de conduite debout ou sur les genoux.
Depuis leur création, les Jet Ski ont vu leur technologie bien évoluer, mais le sport est resté le même, vous pourrez ainsi profiter des dernières technologies afin de faciliter la pratique de ce sport. En grande primeur, le tout dernier modèle de Jet Ski de Kawasaki, le ULTRA SX-R débarque enfin sur les lacs du monde entier, préparez-vous à être décoiffé avec son moteur de 4 temps de 1498cc.
Chez Contant, nous sommes un concessionnaire de véhicules récréatifs fier de vous offrir le meilleur, et ce dans six succursales réparties dans le grand Montréal : à Laval, Mirabel, Ste-Agathe, Vaudreuil, Beloeil ainsi que Montréal.
Afficher plus
Afficher moins

Compare Products
You have no items to compare.